The Historic Hack House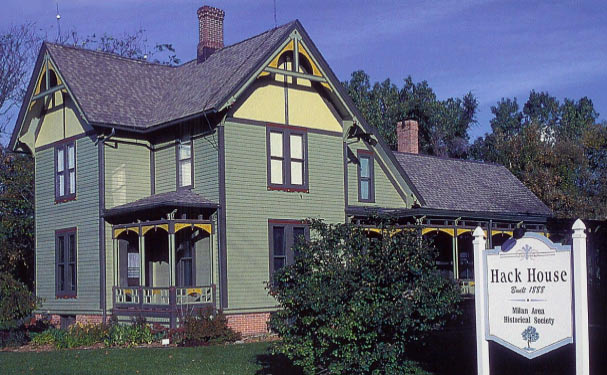 Hack House on 775 County Street, Milan
In April 1888, Olive Friend and her young son, William, moved into the house she had just built. It was a gorgeous "stick style" Victorian house on County Road east of Milan. Olive had bought 40 acres from her Uncle Henry Hack and his wife, Mary, to use for the house and farm.
When she moved into the house, Olive was a recent widow. Her husband, Prof. Henry Friend, had died in New York March 10, 1888 just before a terrible snowstorm hit. Since he was a major figure with the New York Electric Sugar Refining Company, the company kept his death a secret to prevent people from selling their stock.
Olive knew it was a good time to leave New York and come back to her home town of Milan. She knew that the stock investors in New York and in Europe would find out that their investments in the Electric Sugar Refining Company were worthless. Olive knew the investors would want to punish Olive and her family for tricking them with their "Electric Sugar Refining Machine." (There was no such machine. It was all a fraud.)
Olive lived in her house, and soon afterwards put an addition on the back which more than doubled its size. Olive's mother, Emily Burnham Howard, had a nearly identical home built on the northeast corner of Arkona and Platt Roads north of Milan.
When Olive moved out of the beautiful house, she sold it to her Uncle Henry Hack. She remarried and moved to Detroit. She died in Detroit in 1902, buried in Evergreen Cemetery in Hillsdale County, Michigan.
After Olive left the house, it was owned by James and Daisy Hack, and it was known locally as the "Hack House."
Owens-Illinois bought the Hack House from Jim and Daisy in 1968. They donated it to the Milan Area Historical Society.
In 1991, the Hack House was honored with a listing in the National Register of Historic Places, building #91000441. It is listed as the Friend-Hack House with the National Register of Historic Places.

The Hack House museum is open from May to late November
Sundays from 1:00 p.m. to 4:00 pm.
It is open upon request for special events.